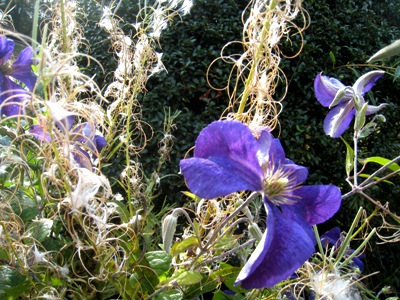 They say:
When the weather allows, check over any newly planted shrubs, trees and perennials. The exceptionally heavy rainfall this year might have exposed the roots. If so, put a thick layer of garden soil or loam-based compost over the exposed roots to protect them before it gets much colder.
Was this maybe one of the people who was raking up the leaves that might otherwise have done this job for free?
Check garden sundries, such as canes, string, gloves and labels. By January the garden centres will be full of these, so have your list ready.
If you are, perhaps, regarded as the old bore in the family who gardens, your list will be rendered obsolete by your exciting Christmas presents…
Try to tidy the shed.
No.
It is traditional to wipe over all metal tools with a damp, slightly oily cloth. Treat and preserve wooden handles with boiled linseed oil, as it loses its stickiness far more quickly than raw linseed oil.
I think this was before we all got cheap stainless steel  – seen any rust on your trowels lately anyone?? I have several very old wooden handled tools which have come to no harm from total neglect. Ignore this unless you are desperate to find a use for your boiled linseed oil.
If bad weather strikes, turn your attention to your seed catalogues and try to order seeds before Christmas.
Must I? I don't actually sow any these days –  I find lots of growers cheaply and cheerfully growing and sending them out in spring, having done the looking after over winter all for me! Hurray!
Before making a list, check the use-by dates on old packets. Be very vigilant with lettuce and parsnip seeds, as both have short viability periods. Old or opened packets tend not to germinate, so ditch them. Larger seeds such as peas and beans last well if they've been stored in an airtight tin in a dry, cool place. So generally a year or two will not make too much difference.
O, get new ones! Isn't the point to be trying new and different varieties and generally having fun?? And anyway – what is 'too much different'? You mean they may not germinate actually and I'd have no BEANS?????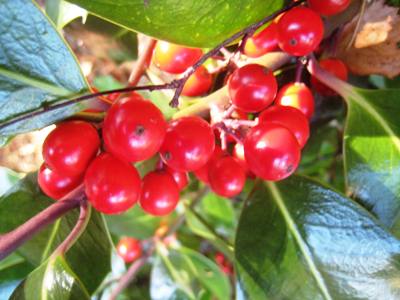 Prune climbing roses now; cutting away diseased or damaged growth and tying in any new shoots to their support. Prune older flowered side shoots back by two thirds of their length.
Or let's just stop growing anything but ramblers which zoom up a tree, flower cheerfully and generally look after themselves? (they prune Kiftsgate at Kiftsgate like this, do we think?) (Whoops – seems like it: just discovered Val Bourne pruning her ramblers..)
Leave the faded flower heads on your hydrangeas until the spring, as they will provide frost protection to the swelling buds further down the stems.
This is cheating. Telling people not to do things is my job. You are just slacking.
Gather up fallen leaves from around the base of rose bushes which suffered from blackspot or rust this summer, to reduce the chance of infection next year.
They will be diseased and miserable next year whatever you do if they are vulnerable. Throw them away and get something healthy.
Move containers of shrubs or bedding plants to a sheltered spot; clustering them together helps protect the root systems from suffering frost damage.
Don't delude yourself – one really hard frost will demonstrate what a waste of effort that was. 'Help to protect' is not good enough – protection is protection. Or not, in this case.
Take root cuttings of oriental poppies and grow them on in cold frames. Take hardwood cuttings from suitable trees and shrubs.
I wouldn't mind but this is the stuff that the kind of gardeners who actually only ever plant one of anything do. And how many more shrubs and trees do you want?
Plant some shrubs for winter interest. Sarcoccoca confusa adds colour and fragrance to your garden at this time of year.
No. Do not plant anything in this cold and/or wet. If they don't suffer, you will.
And Sarcoccoca confusa is wonderfully unpronounceable but it is not colourful. Evergreen with tiny little flowers. Their smelliness is good, true.
Plant up winter containers with hardy cyclamen, ivy, skimmia and evergreen grasses such as Carex comans Amazon Mist to add colour to your garden. Place them in prominent places beside entrances and well used paths to enjoy their winter display.
Oh, here come those dreadful, depressing  containers with 50 different plants in and a dressing of crisp packets and fag ends..
Dig over empty borders and pile manure on top – let the worms and frosts break up the clods of soil.
Don't be daft. What are you doing with empty borders? And hate to tell you but digging is awfully bad for the soil and the worms. Manure has hardly any value as fertiliser and as a mulch generally offers you entertaining new weeds.
Remove yellowing leaves from your winter brassicas as they are no use to the plant and may harbour pests and diseases.
These are those pests and diseases otherwise called wildlife. They have a right to live as well you know. Hug a slug.
OK, that's enough. They get paid for this stuff!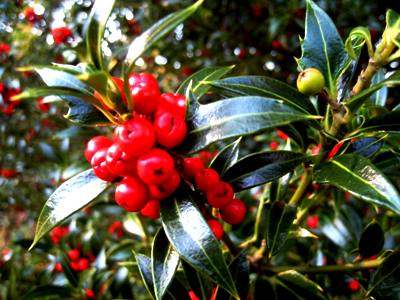 Anne Wareham
Send to Kindle