How to find us
Find Veddw House Garden on Google Maps
---
The garden will be open on Bank Holiday Sunday morning 10 – 12 but closed bank holiday Monday.
By Car (coach below_
(Generous on-site parking available ) Sat Navs seem to bring people happily to our doorstep.
Postcode NP16 6PH   Grid reference ST 492 986
Address Veddw House, The Fedw, Devauden, Monmouthshire NP16 6PH
Best make note of these directions – you won't find a phone signal once you get nearby.
From Devauden: leave the B4293 and take the St Arvans road, signposted at the village green. Down a steep hill with Chepstow Park Wood on the right. After half a mile turn left, signposted The Fedw.
From St Arvans: I really wouldn't start from here! But actually you just keep going, through the village, having borne left (rather than taken the severe left) at twee Victorian fountain, then up and down hills until you reach the woods, go through woods, look for sign The Fedw on the left and turn right down that lane.
Our car park is the first entrance on the right down The Fedw – park, then come through to the garden by way of the path next to the car park gate and through the wooden gate.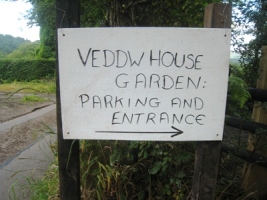 If you are making a private visit and the car park gate is locked, come down and use the next (blue, wooden) gate.
---
By Coach
Postcode NP16 6PH Address Veddw House, The Fedw, Devauden, Monmouthshire.
You will have to drop people off at the top of the lane marked The Fedw then park up and collect later at agreed time. The lane is too narrow for coaches, even small ones.
Your party need to take the first entrance on the right, into our car park, then take the path by the gate into the garden.
If people have difficulty walking it is quite a short way down the lane to the garden. If they cannot then reach the lower garden I will be happy to give them a lift from there if the group leader lets me know. There is a seat where they can wait.
Parking is available in The Forestry Car Park a short distance from The Fedw turning. The Forestry car park seems to have a mobile signal – useful if you need to contact the driver. Parking for coaches is also available in Devauden, beside the village hall. However – there is no reliable mobile signal in Devauden.
We are:
Half an hour from Bristol
Two and a half hours from London
50 minutes from Bath
50 minutes from Gloucester
45 minutes from Cardiff
Subscribe to the Veddw Blog