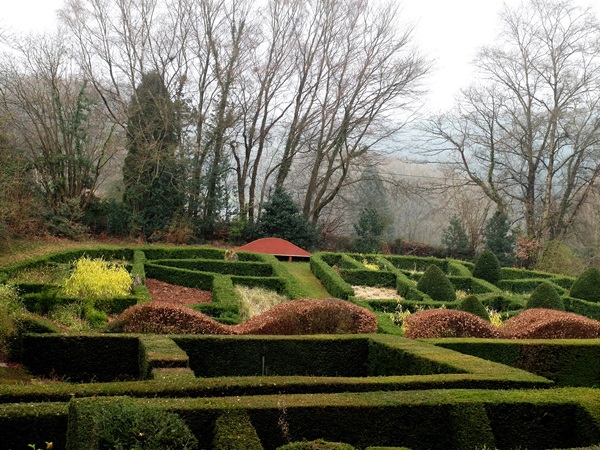 The group leader now points out to me that I only asked  about the people who didn't appreciate the garden: the majority did like it. And she asked me to add a new last paragraph, which is below.
 This was feedback which I requested from the leader of a recent coach party. I thought it would be useful to people planning such visits and I've left it anonymous because, although I have permission to use it, it wasn't mentioned to the members of the party at the time.
Group Leader:
It was generally the people who are "controlling" in their own gardens that didn't like it, they admired parts of it, especially the reflecting pool.  They seemed to find the very formal structure of the hedges and clipped trees juxtaposed with very informal planting hard to cope with.  Some of them have liked both separately in other gardens, it is just the two together that they found disconcerting.
They didn't like the "grass" parterre at all (which I absolutely loved) because, would you believe it, of lack of colour.  I have always disliked mass planting of grasses but done as a parterre it is wonderful.  If space permitted I would absolutely love to do the same with all the "grasses" that can be used in basket making including the day lilies, irises and crocosmia.
Some didn't like the getting lost/how do I get out of here element which only a first time visitor will experience.
Two people who have visited before said it is a garden that definitely grows on you, it is so unique it's a bit of a challenge to one's perceived ideas of what a garden should be like, on a second meeting it is much more "friendly".
Really got people talking which is good in itself.
Addition: "My lasting memory of Veddw is the very first glimpse of it as you approach from above.  Nothing prepares you for this, no reviews, no photographs (sorry Charles), nothing.  What you see is a garden with definite boundaries, made up of individual elements, some if which are quite unique.  The real magic is, however,  the way in which these individual elements combine together to form a wonderful tapestry that fits perfectly into the surrounding countryside.  Love it."
Send to Kindle